view cart/checkout
|
my account
About Us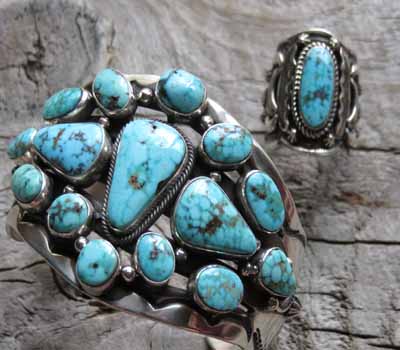 The Turquoise Mine: The beginning...
It started with a gift of Native American jewelry; a hand crafted turquoise watchband. And then, Native American turquoise earrings. Then, again, a Native American turquoise pendant. What ultimately developed was a passion for Native American Indian jewelry, made with turquoise from all of the classic American Turquoise Mines; Sleeping Beauty, Morenci, Kingman to name a few... And, although the core of our business is offering heirloom-quality Native American jewelry, we have discovered that beauty resides at home and beyond our shores, in the form of hand-crafted treasures created by skilled artisans. Two of our personal favorites are the stunningly beautiful pieces made from highly-skilled Tibetan artisans, as well as the luxuriously rich, natural Lapis mined from the ancient lands of Afghanistan. It is with such precious and semi-precious stones from which the Turquoise Mine creates its own one-of-a-kind designs. We seek and are drawn to uncompromising quality, uniqueness and rarity - which will generally fall into one of these three categories.
We are a family team who share the same love of turquoise, natural stones and the riches and are inspired by their beauty. We aim to bring to the marketplace a fine array of original jewelry pieces which can be handed down through generations. We welcome you to peruse throughout our entire line of jewelry categories, to purchase that one, unique-piece that just "talks to you," or to simply window-shop. If you require further information on any item, please send us a note through the Contact Us link or call at 508-983-4041. It will be our pleasure to assist you. We hope you have a pleasurable experience digging for treasure, here, at The Turquoise Mine!
And for those dog fans out there; Archie (black) and Hagrid (brown), yes- we have a love for Newfoundlands too! And yes, both look very nice wearing turquoise!
We would like to thank the folks we meet "on the road" and those we met in Littleton during our "bricks and mortar" years. Although the building in Littleton, MA has gone up for sale and we have moved on- we still plan on "hitting the road" every now and then. Stay tuned for upcoming events. And, of course, we will always be here for you online!
Click here to check out a few of our favorites: